Garageband on the new iPad2. That's a biggie.  This has implications for casual music makers and pianists everywhere.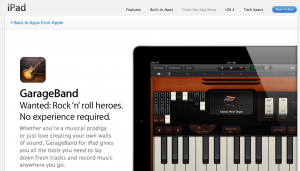 At the International Music products trade show (NAMM) this year you couldn't swing a USB cable without hitting a booth with an iPad in it.  Yet, there were only a smattering of interesting musical applications on the floor.   Nonetheless, it was clear that 2011 was to be the year for music makers to drift to iPad.  This is the biggest announcement in this regard.  The new generation of tablets are a natural fit  for the pianist.
Light, mobile – if it's easy to move around – you move it around.
Fit on the music rack of any piano (not just laptops on grands)
Great battery life (claim 10 hours) – I can't practice that long.
Apps for displaying and organizing music.
Questions remaining at this point:
Will MIDI input work?  The answer will likely be yes.  I understand that people have used the camera connection kit to connect usb midi keyboards.  Also there's the iConnectivity folks putting out a pretty robust full featured MIDI interface.
Latency with MIDI performance?  How quick will the tone generator response be to incoming MIDI?
QuickTime Musical Instruments?  From available info, it looks like they're promoting higher quality soft-sounds rather than the GM features/sound of Quicktime Musical Instruments (Apple's Roland-Licensed General MIDI soundset that's been on Mac since the 90s).
Everything that GB has to offer?  Ie  – on the fly notation?  That's a great feature – and makes for exciting demonstrations.
When Apple purchased Logic, and birthed Garageband a few years later, they raised the bar for elegant, simple music recording software.  It was clear then, and clearer now, that Apple has struck fear into the hearts of music software makers everywhere who can't complete on features or price.  The features of Garageband for $5  is kinda crazy – perhaps that will stifle innovation elsewhere, – but for now, it's a win for music makers and Apple.
Apple's Official Page:
http://www.apple.com/ipad/from-the-app-store/garageband.html
Other links:
http://www.maclife.com/article/features/garageband_ipad_2_what_we_know