http://soundation.com/ It's incredible what's happening in the online application world.  This is THE direction of software – and mostly, it's good news (unless your a speed or power user).  Soundation provides a credible, easy to use environment for recording and loop based music making.
I was up, running and making recordings in minutes.  Very cool.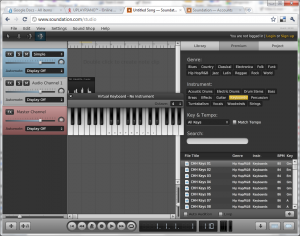 Observations:
Flash-based:  Sorry iPad, and shame on you Apple again.
Costs:  Freemium Model:  Free to do some really cool stuff, pay monthly or annually to do the stuff you'll really want to do sooner than later.  
Records YOUR voice, live etc, using Flash – but you can't export/save this unless you get one of their "Audiolocker" accounts – which start at $19/yr, or $4.99/month.  Pretty reasonable for such a cool feature set.
MIDI:  Has a feature for Importing MIDI files – but didn't work for me.  Not clear if that's supposed to be a paid feature – didn't give any feedback along those lines.
No MIDI In – this is for Audio/Loops, and simple on-screen keyboard use.
Bottom line:  There's a lot going on here, some pretty amazing stuff under the hood – and they've done something that delivers features for free that would have been unheard of 5 years ago.